Membrane system yeast library
Technical Introduction
The DUAL membrane system was first developed by Dualsystems Biotech AG in Switzerland. It is based on a yeast two hybrid system of membrane proteins mediated by split ubiquitin. Ubiquitin can be expressed in two parts, namely its N-terminus (NubI) and C-terminus (Cub), which fuse with the LexA protein that can initiate nuclear reporter gene expression. NubI and Cub LexA form a separable ubiquitin protein system in cells, where the two broken ubiquitin parts are connected to one protein, and there is interaction between the two proteins. It provides in vivo protein analysis methods that are different from conventional yeast two hybrid systems, making it possible to analyze the interactions between membrane proteins.
Its main feature is that it can conduct research on the interaction between membrane proteins, membrane proteins, and soluble proteins. It can be used for both screening expression libraries and verifying the interaction between two known proteins (one of which belongs to a membrane protein)
Experimental Principles
1. Ubiquitin can be divided into two parts: N-terminal (Nub) and C-terminal (Cub);
2. Nub and Cub have a strong affinity. When expressed simultaneously in the same cell, Nub and Cub bind to form complete ubiquitin, which is recognized and cleaved by ubiquitin proteases (UBPs);
3. After the mutation of isoleucine in the third position of Nub into glycine (NubI → NubG), the affinity between Nub and Cub is greatly reduced.
4. Cube fusion transcription factor LexA-VP16, bait constructed on Cube, prey constructed on NubG;
5. When bait interacts with prey, causing Cub and NubG to approach and form complete ubiquitins, UBPs recognize and cleave;
6. The truncated transcription factor LexA-VP16 enters the nucleus and initiates the expression of reporter genes (His, Ade, LacZ).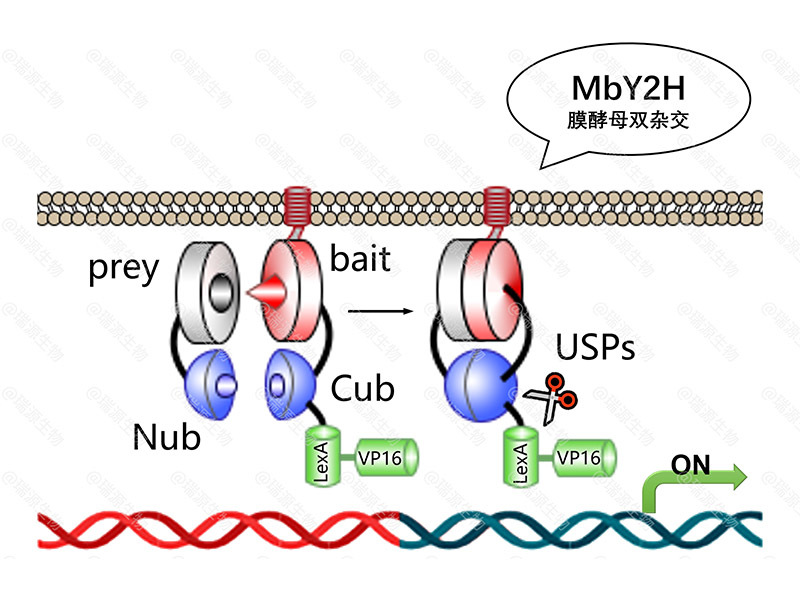 Technical advantages
1. In situ detection of protein-protein interactions in vivo without the need for nuclear localization signals
2. Minimize the steric hindrance between interacting proteins using small ubiquitin domains (NubG/Cu)
3. The interaction signal between proteins is initiated by ubiquitin specific binding proteins (UBPs) cleaving artificial transcription factors (LexA), rather than transcription, thus detecting the transcriptional activation or inhibition sequence of the protein itself
4. This system can be used to study the interaction between two membrane proteins and the interaction between one membrane protein and one cytoplasmic protein
5. Any type of membrane protein can serve as a bait to localize the interaction module (Cub PLV NubG) fused with the detected protein within the cytoplasm

Method for selecting bait carriers

Note: If both the N-terminus and C-terminus are located outside the cell, the C-terminus can be truncated to appear in the intracellular segment, and then the corresponding carrier can be selected
Service Content

Application prospect
This technology can solve many important biological problems such as signal transduction pathway, ion channel, receptor, cell proliferation and differentiation, virus infection host, etc. It can also find suitable biological targets for new drug discovery and design drugs.
Case presentation
Study on the Interaction between Phosphorus Transport Proteins in Rice Using a Yeast Two Hybrid System to Isolate Ubiquitin Proteins
This article uses yeast two hybrid (Y2H) analysis based on the split ubiquitin membrane system to test the interaction between the remaining 31 candidates and OsPT8. Identify OsPP95 as a candidate protein phosphatase for interacting with OsPT8. In Y2H analysis, OsPP95 interacts with OsPT8 and OsPT2. In order to identify the PT interaction domain of Osp95, the Osp95 protein was divided into OsPP95NT (amino acids 1 to 36, containing a unique Osp95 sequence) and OsPP95CT (amino acids 37 to 290, including the conserved PP2C catalytic domain), indicating that both OsPT2 and OsPT8 interact with the nitrogen terminal of OsPP95 but do not interact with the carbon terminal

Common FAQs
1. How to choose a nuclear or membrane system during the yeast dual hybrid experiment?
Mainly determined based on the localization of the bait protein in the cell:
1) If the bait gene is a protein located on the membrane, the membrane system library is chosen;
2) If the bait gene is located in the nucleus, the nuclear system library is chosen;
3) The bait gene is located in the cytoplasm and can be selected from a nuclear or membrane library;
2. What are the advantages of separating ubiquitin membrane systems? What are the defects?
Advantages of separated ubiquitin systems:
The interactions between proteins studied occur in the cell membrane or cytoplasm, rather than in the nucleus, making the study of physiological protein interactions in the cytoplasm and cell membrane widely applicable, to some extent compensating for the shortcomings of traditional yeast two hybrid systems.
Reporting proteins can also use proteins with other properties (such as enzymes), so that protein interactions can be analyzed by detecting enzyme activity.
Limitations of separated ubiquitin systems:
When screening binding proteins in libraries, there is usually a defect of high false positives. Therefore, the interaction proteins screened by this system need to be further confirmed by immuno coprecipitation and other methods;

Online Consultation
01

Solution Matching
02

Service Contract
03

One-Stop-Services
04

Project Report
05